You will develop a detailed understanding of key biological processes and principles, together with the technical and scientific skills to carry out investigations to interpret and report results.
We will introduce you to the specific techniques and applications used in a broad range of sectors, including pathology, biomedicine, toxicology and forensics, as well as environmental settings such as pollution monitoring and control. Work-based learning is an important part of our course. During practical sessions you will learn how to select and apply various techniques to specific scientific requirements. We will also give you a thorough introduction to the bioscience sector and how it operates.
By the time you graduate you will have practical skills that allow you to design, plan, record and report on investigations; collect and analyse data in the lab or field; and understand how best to select, analyse, collate and report data.
When you graduate you will be able to demonstrate core knowledge and understanding of the scientific disciplines of bioscience and sound knowledge in related fields. You will be able to apply skills of analysis, synthesis, evaluation and application in the context of bioscience and appreciate the interdisciplinary and multidisciplinary nature of bioscience.
The courses at University Centre Peterborough are studied in smaller class sizes compared with other universities, a typical class size is under 30 students.
Smaller class sizes mean that during practical sessions you benefit from the facilities, and time with lecturers and technicians.
Opportunity to develop your employability skills as work based learning is a key element of the degree.
Opportunity to tailor your degree to your interests, while gaining a solid scientific background, commercial awareness and transferable skills.
After successful completion of the FdSc Levels 4 and 5, you have the opportunity to complete the Level 6 of the BSc (Hons) to obtain a full honours degree.
64 UCAS points with at least one qualification in a related subject:
A-levels
BTEC Level 3 National Diploma
Cambridge Technical Level 3
IB Diploma
Access to HE
Students who do not qualify by any of these qualifications should call 01733 214466 or email admissions@ucp.ac.uk to discuss equivalent qualifications or relevant work experience.
You must have GCSEs English, Mathematics and Science at grade C or above.
We accept A-level General Studies and AS-levels when combined with other full qualifications.
If English is not your first language you will require IELTS score of 6.0 (with 5.5 minimum in each skill) or an equivalent English Language  qualification.
ACCREDITATION OF PRIOR CERTIFICATED LEARNING (APCL) FOR ENTRY
APCL relates to learning completed through an earlier course of study. If you have previously completed a course which is relevant to your proposed course you should make this clear when you apply. For this to be eligible for consideration you must be able to provide certification, which shows your success in a final assessment for that course. Learning must be completed in the last five years or further evidence of updating will be required. Simple participation in a course or an attendance certificate is not sufficient.
EXEMPTIONS BASED ON ACCREDITATION OF PRIOR LEARNING (APL)
UCP offers students flexibility in their studies, by recognising learning they may have completed elsewhere before they apply. The Accreditation of Prior Learning processes ensure that we can take this into account when determining the modules you must study. It is important that you should identify any relevant prior learning when you apply.  If your previous study specifically relates to modules on the course you wish to undertake we may approve a reduced programme of study, thus shortening the time it takes to obtain your award. Where this relates to learning completed through an earlier course of study, this is called Prior Certificated Learning, and where learning has been achieved through relevant work or experience, this is referred to as Prior Experiential Learning. Claims must be approved before you commence a course.
EXEMPTIONS BASED ON ACCREDITATION OF PRIOR EXPERIENTIAL CERTIFICATED LEARNING (APEL)
It is important to understand that the APEL process does not award academic credit for experience alone, but for learning which can be shown to have been achieved through that experience. Students are required to prepare an individual case for the credit arising from their learning experiences. This normally means that a student receives support in the preparation of a portfolio, in which their claim is justified in detail and is supported by relevant evidence. This portfolio of evidence is then submitted for assessment and the possible award of academic credit. Alternative methods of assessment of evidence may be available but needs to be discussed with the Admissions team or Course Leader.
If you have any questions about entry requirements contact the Admissions Office on 01733 214466 or email admissions@ucp.ac.uk.
You must take modules worth 120 credits at each level of the course. Each module is worth a specified number of credits.
Year one for full-time students (Level 4)
Cell Biology 1 (15 credits)
Cell Biology 2 (15 credits)
Mathematics for the Biosciences (15 credits)
Human Anatomy and Physiology 1 (15 credits)
Foundation in Cell Biology (15 credits)
General Microbiology (15 credits)
Human Anatomy and Physiology 2 (15 credits)
Introduction to Biochemistry and Molecular Biology (15 credits)
Final year for full-time students (Level 5)
Diagnostic Techniques in Pathology (15 credits)
Laboratory Techniques for the Biomedical Sciences (30 credits)
Preparation for Research (15 credits)
Principles of Genetics (15 credits)
Principles of Pathology (15 credits)
Work Based Learning (30 credits)
Click here for more information about each of the core modules.
A typical 15 credit module is 150 hours includes 36 hours of tutor led delivery and 114 hours of recommended independent study.  A typical 30 credit module is 300 hours includes 72 hours of tutor led delivery and 228 hours of recommended independent study.  A full-time student should expect to undertake 38 additional hours per week during term-time.
When studying this course at University Centre Peterborough, we will timetable your lectures as two to three full days a week over two semesters per year (part-time will be one full day a week over two semesters per year).
Each semester is up to 15 weeks which includes 12 teaching weeks and 3 assessment weeks. If studying full-time you will be in classes, seminars and tutorials for approximately 15 hours per week and will spend the rest of your time in independent study and extra-curricular activities.
We recommend that full-time students allow up to an additional 40 hours per week for additional study. The campus is open Monday to Friday throughout the whole year and open late until 9.00pm from Monday to Thursday during term time. You also have 24/7 access to online resources from Anglia Ruskin University.
Timetables are available at least one month before enrolment and you can refer to the academic calendar for examination weeks and resit periods. Note that the days of the week you study may change each year and in some circumstances one of the full days might have to be split into two half days, but we aim to keep these as full days where possible.
Throughout the duration of your course you will be assessed by the following methods:
Coursework
Essays
Reports
Portfolio
Reflective log book
Seminar
Presentation/oral  assessment
Work based assessment
Practical assessment
Written assessment
Written examination
Multiple choice examination
We will provide, by the beginning of the first week of each semester, a current module guide with all the information you need for each module, including details of assessment tasks, the deadlines for these tasks, the required format and any relevant guidance.
A formative assessment workshop is written into all module plans and usually take place in weeks 9 or 10 of the semester.  Each course includes a summative feedback session where marked work is returned.
When a student has achieved 120 credits at level 4 and 120 credits at level 5 they become eligible for a foundation award. The award classification is determined by calculating the credit weighted arithmetic mean of the module results for all modules at level 5. The following classifications are determined by the above calculation:
70%+         Distinction
60-69%     Merit
40-59%     Pass
0-39%       Fail
A Bioscience student who has achieved 120 credits at level 4 and 120 credits at level 5 has three options.
They may choose to accept their foundation degree, with the classification calculated as described above, and cease their studies.
Alternatively they may choose to apply for the level 6 BSc(Hons) Bioscience course as a new student in order to achieve a second qualification based solely on their level 6 credits.
A third option allows students to decline conferment of their FdA qualification and continue as an existing student so that both level 5 and level 6 credits are used in the calculation of their BSc (Hons) award. Guidance will be provided to students making this decision.
After successful completion of the FdSc Levels 4 and 5, you have the opportunity to complete the Level 6 of the BSc (Hons) to obtain a full honours degree with a further year of study.
This degree could be the stepping stone in developing a successful career in the health services or laboratory settings such as pathology, biomedicine, toxicology, forensics and pollution monitoring or control.
Sudakaran Selvaraj
I am the Course Leader for the FdSc and BSc (Hons) Bioscience degree at University Centre Peterborough.  I have been teaching for over 10 years, starting my teaching career as a secondary school Biology teacher. Over this time, I have taught across a range of courses within the Science and Maths subject areas.
Since 2011, I have been teaching on the higher education provision and have been the Course Leader for Crime and Investigative Studies before developing the Bioscience degree. I have been the Course Leader of Bioscience since it was launched at University Centre Peterborough.
I teach across all levels and teach on most modules within my expertise, some of which include Special Topics in Bioscience, Current Advances in Biomedical Sciences, Principles of Genetics and Core Biology. I also still teach on the science based modules on the Crime and Investigative Studies degree pathway as well.
Before my teaching career I worked as a  Biotechnologist working on Somatic embryos in rice.  My key interest lies within the Biotechnology sector, in particular to the application of Molecular Biology techniques in plant biotechnology.
Qualifications
BSc (Hons) Biotechnology, University of Bangalore, India
Postgraduate Diploma in Plant Tissue Culture, University of Bangalore, India
MSc Computing, University of Northampton
Diploma in Teaching in the Lifelong Learning Sector (DTTLS), Anglia Ruskin University
When you have chosen a course to study at University Centre Peterborough, your next step is to make an application.
All full-time applications for UK and EU students must be made to UCAS via a web-based tracker system – www.ucas.com (the institution code for University Centre Peterborough is P56).
All part-time and postgraduate applications can be directly to University Centre Peterborough. Contact the Admissions Office on 01733 214466 or email admissions@ucp.ac.uk to start your application.
If you only wish to apply to University Centre Peterborough and already have the entry requirements, you can also apply directly to us by downloading and completing the following form.
Before you apply, please check that you meet the entry requirement which is listed on the course information pages.
WHEN TO APPLY
For full-time undergraduate and HNC/D applications, we advise you to make an application for your chosen course as soon as possible to secure your place. We will process your application within 1 to 5 working days so you know if you have a successfully received an unconditional or conditional offer. We are available to help you through every step of the way.
First UCAS deadline
Applications for the majority of undergraduate courses will be made by 6.00pm on Tuesday 15th January 2019.
UCAS Extra
If you missed the first UCAS deadline, you can still apply through UCAS Extra from Monday 25th February to Thursday 4th July 2019. This also gives you the opportunity to add UCP as an additional choice if you have used all five choices and are not holding any offers.
Clearing
From Friday 5th July 2019 you can apply via UCAS through Clearing.
This is open to those who have not yet applied or students who have waited until they have received their grades. However, you do not need to wait until you receive your grades before applying through Clearing.
If you have applied and been accepted at another university, you still have the opportunity to change to study at University Centre Peterborough.
WHAT IF I DON'T GET THE GRADES I EXPECTED?
Don't panic. If you have done better or worse than you expected, contact University Centre Peterborough during Clearing and we will let you know very quickly. During this time of year we have additional staff so you can speak to admissions and academic staff who can advise if you can be accepted on a degree. We are used to helping hundreds of students at this time of year so you can feel assured that you receive the best advice and support.
If you have any questions about making an application contact the Admissions Office on 01733 214466 or email admissions@ucp.ac.uk.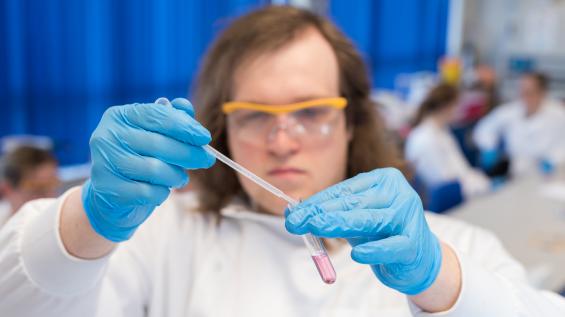 Key Facts
Accredited by:

Anglia Ruskin University
---
Location

University Centre Peterborough (50%) / Peterborough Regional College (50%)
---
Duration and Delivery

2 years full-time 
(2-3 full days a week over two semesters per year)

4 years part-time 
(1 full day a week over two semesters per year)
---
Start Date

w/c 16th September 2019
---
Tuition fees

The tuition fees for full-time undergraduate UK and EU students starting in 2019/20 will be £8,000 per year, which is lower compared with many other universities.

All full-time undergraduate students will receive £500 cash reward at the end of every year and students from low income households can apply for a £500 cash bonus after the first semester of every year (subject to eligibility).

Fees for part-time study are pro-rata depending on the number of credits you are studying (i.e. 60 credits per year will be 50% of the tuition fee).

There may be additional costs for this course which are not covered by the tuition fee.
---
Additional Notes

Click here for terms and conditions 2019/20 including our complaints policy.

The course content is currently being revalidated for September 2019 and this webpage will be updated as soon as confirmed so please check back for updates.
---
Register your interest
FdSc Bioscience