University Centre Peterborough
(UCP) was formed in 2007 and is a joint venture between Anglia Ruskin University (ARU) and Peterborough Regional College (PRC). University Centre Peterborough opened its purpose built £9 million facility in November 2009 on the campus of PRC. The joint venture agreement outlines the responsibilities of both parties for managing academic standards.
While the Anglia Ruskin University Senate has the ultimate responsibility for standards through its Quality Enhancement and Standards Committee, the Centre is responsible for managing the quality and delivery of teaching, learning and assessment in line with academic regulations and procedures. The joint venture is overseen at a strategic level by a Board of Directors made up by ARU, PRC and an independent chair.
The mission of University Centre Peterborough is:
'To engage, enable and empower students to meet the challenges of the future'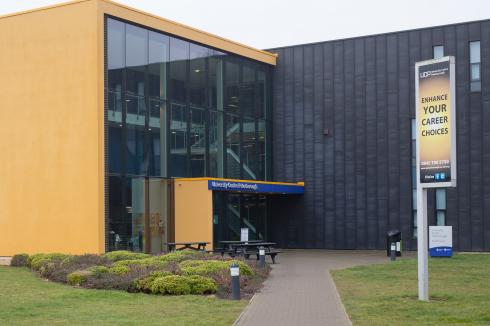 Students remain at the heart of all that we do and are integral to the decision making process.
We aim to ensure that the attributes of the UCP graduate result in personal and academic success.
The University Centre Peterborough Graduate demonstrates:
Resilience
Engagement in and promotion of continuous academic and professional development
A global perspective and cross –cultural sensitivity and awareness
Clarity of communication and purpose
Information and skill expertise
Intellectual autonomy and enquiry
Adaptability
Network of Students
For those moving to Peterborough we have a good network of student support ranging from the academic to extra-curricular. Numerous societies and activities ensure University Centre Peterborough is a hub of activity and opportunity. Our Sports Council supports competitive and recreational sports. Our Student Ambassadors provide a friendly face from day one and will advise and guide you about course related and extra-curricular activities.
We realise that sometimes you just want to talk to one of your peers.
Timetables
We strive to keep timetables to a maximum of three days so that you can work part-time to off-set the cost of your studies.
Employability
Employability has been another area we have developed at UCP. We have forged excellent working relationships with companies such as, BGL - ComparetheMarket, Enterprise International and Saffery Champness as well as numerous third sector organisations such as the Heritage Lottery Fund. Local schools are employing students prior to graduation as Academic Mentors. This enhances your CV and provides useful contacts should you wish to go into teaching, probation work or youth related activities. Companies recruit direct from us and also offer students paid internships and commissioned projects. We also have excellent connections with volunteer organisations and support you in your personal development from year one.
For those in employment we offer degrees on a part-time or blended delivery model. This means that some modules may be delivered online and related to your employment.
If you would like further information about any of the courses we offer or if you are looking for advice and guidance on the best course for you, why not contact our friendly Information Centre on 01223 695750 or email ucpenquiries@anglia.ac.uk and find out how you can join the many students who achieve their ambitions with us every year.
We look forward to seeing you at University Centre Peterborough.