Our UK/EU fees for 2017/18 will be £7,750 per year* for full-time undergraduate courses.
Part-time fees for undergraduate courses are pro-rata depending on the number of credits that you are studying. I.e. 50% part-time will be £3,875.
The Postgraduate Diploma in Human Resource Management (CIPD) is studied part-time over 2 years at a cost of £3,550 per annum*
Please note that if you fail a unit, you may incur re-sit costs.
All course fees are calculated based on the number of credits due to be completed



* please note fees may be subject to an inflationary increase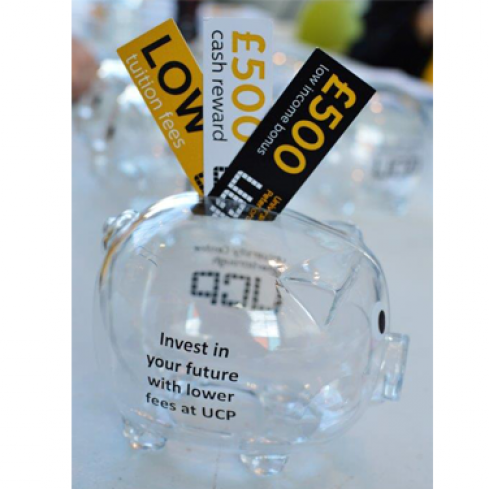 Full Time Student Finance England applications
are now OPEN for 2017/18 entry.
Click HERE to start your application today.
IMPORTANT
If you are going to apply for a Student Finance funding, all UCP courses are registered under the Anglia Ruskin University Student Finance provision (Institution code A60). All UCP courses clearly have UCP displayed in brackets within the course title as shown below.

Institution: Anglia Ruskin University
Course: BA (Hons) English Literature - (UCP)
UCP FINANCIAL INCENTIVES TO AID STUDY AND DEVELOPMENT **
A Global Scheme payment of £500 will be made to full-time undergraduate 2017/18 entrants on successful completion of the academic year***. In addition those full-time undergraduates from low income households will receive £500 at the end of the first semester to support their studies***. It is expected that students can use these funds to participate in field trips, events to enhance their studies and resources for their courses.
FULL-TIME DEGREE LEVEL STUDENTS

If you're starting a full-time higher education course, the main types of financial help you may receive are:
a Tuition Fee Loan to cover your fees in full
a Maintenance Loan
a bursary from your university or college
TUITION FEE LOAN
You can apply for a Tuition Fee Loan of up to £9,000 per year to cover the full cost of tuition. Student Finance England will pay the fees directly to the University Centre and you will not have to pay back this loan until you have finished your studies and are earning over £21,000 a year. To apply for a tuition fee loan, please visit the Student Finance England website: https://www.gov.uk/student-finance.
**Only available to student on ARU accredited courses
***Part-time undergraduate students will receive a pro-rata payment depending on the number of credits they are studying.
MAINTENANCE LOAN
Full-time students can also apply for a Maintenance Loan from the Government to help with living costs. This is paid into your bank account at the start of each term. The amount of Maintenance Loan you can borrow depends on your circumstances, including your household income, what year of study you are in, where you live and study, and any Maintenance Loan you may be eligible for.
OTHER FINANCIAL HELP
In addition to the above, you may also be eligible for one of the following sources of financial help:
Disabled Students' Allowances (DSAs)
Parents' Learning Allowance
Adult Dependants' Grant
Childcare Grant
Students should visit the Student Finance England website for more details www.gov.uk/student-finance
HNC/D TUITION FEES - Delivered at Peterborough Regional College
HNC/D Full Time
1st year 17/18 New students: £6,000 *

HNC Part Time 2 year
1st year 17/18 New students: £3,000 *
HND Part Time 3 years
1st year 17/18 New students: £4,000 *
* please note fees may be subject to an inflationary increase
** please note that if you fail a unit, you may incur re-sit costs