Student Ambassadors
As a student with UCP you will have the opportunity to become a Student Ambassador for us. Our Ambassadors provide a link between the University and prospective students using their own experience to speak about university life and talk about what it is like to be a student at our institution. Becoming a Student Ambassador opens opportunities for you to work with young people, develop a variety of highly sort after employability skills and enhance your CV.


Research Ambassadors
Similar to our Student Ambassadors, our Research Ambassadors provide a link between the University, however the Research Ambassadors will work closely with the HE Scholarship Development Manager to develop the scholarly community at UCP. They will undertake the development of journals and articles, present work and coordinate papers for the British Conference of Undergraduate Research, Attend the Staff HE Conference and Support the HE Undergraduate Research Conference. This is a fantastic opportunity for all final year students who are considering progressing onto post-graduate study.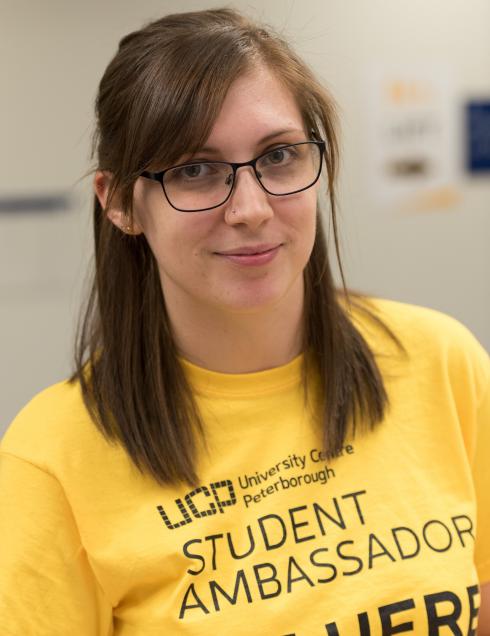 Class Reps
For each level of every programme we offer at UCP, a Class Rep is nominated by their peers. These Class Reps are then the 'collective voice' and provide feedback to UCP in a variety of formats. They are invited to attend a variety of meetings with support staff, academic staff and the Academic Director to ensure their queries, concerns and positives are heard, with all Reps providing the central Student Voice for our study body.


Student Council
At the start of the academic year you will be asked to nominate a course representative whose role it will be to sit down with members of the UCP support staff and raise any issues or concerns you may have; as well as feeding back all of the positive news at our regular meetings. This is just one of the many ways you can keep us involved with your experience here at UCP. We are always looking for ways to improve your student experience and all feedback is always appreciated!


Sports Council
All students are encouraged to attend our regular Sports Council meetings. This is where we will discuss the progress of the sports teams in their competitive games as well as come up with innovative ways to encourage participation in regular exercise and promote the benefits of a healthy lifestyle. The Sports Council have a yearly allocated budget which can be put towards putting on taster sessions and activities throughout the year so please turn up and have your say! Whether it's competitive or recreational we want to hear from you. Involvement in the sports council is also great to add to your C.V.


Clubs & Societies
Here at UCP we have a number of societies including a Table Top Gaming Society, a Criminology Society and a Literature Society as well as a sports team. Each year you are allocated a budget to set up new societies so if you have any ideas for a society and feel it is something that others would get involved in, come and see us at Student Support or send an email to support@ucp.ac.uk and let's get planning!

Setting up a society is easy – just follow the below steps
Get 10 members to sign up
Liaise with the Student Experience Officer
Contribute £1 each
Be clear about your purpose
Receive £100 funding from UCP

UCP Branded Clothing
UCP Branded clothing is available to order from our Student Support Centre. Why not treat yourself and show your UCP Pride by wearing one of our branded items of clothing. Why not share the love with friends and snap a picture of you enjoying your free drink in your branded top on social media #Introduceyourselfie


Annual Student Experience Awards
Each Academic year we recognise all the hard-work and achievement that you put in to your degree and do not want to just congratulate you at the end of your university life. We feel it is importance to acknowledge these achievements throughout your time with UCP therefore we hold an annual Student Experience Awards Evening, where students can nominate an Outstanding Lecturer who has helped throughout their studies providing quality lectures, tutorials and guidance over and above the expected standard and/or a member of staff for the Outstanding Support Award who has helped you throughout your studies providing support, advice and guidance over and above the expected standard. Academics and staff at UCP also nominate students for the Course Academic Award, where students are nominated based on a variety of elements of a student's academic life including academic success, contribution to group work (non-assessment based), support to their peers and progression within their academic studies. There is also an University Centre Peterborough Award for a student who has been nominated by staff, as having improved the most or having made the biggest contribution to UCP in a non-academic manner.We promote this event during Semester 2 of the academic year on social media and through posters so keep your eye out for the upcoming information.