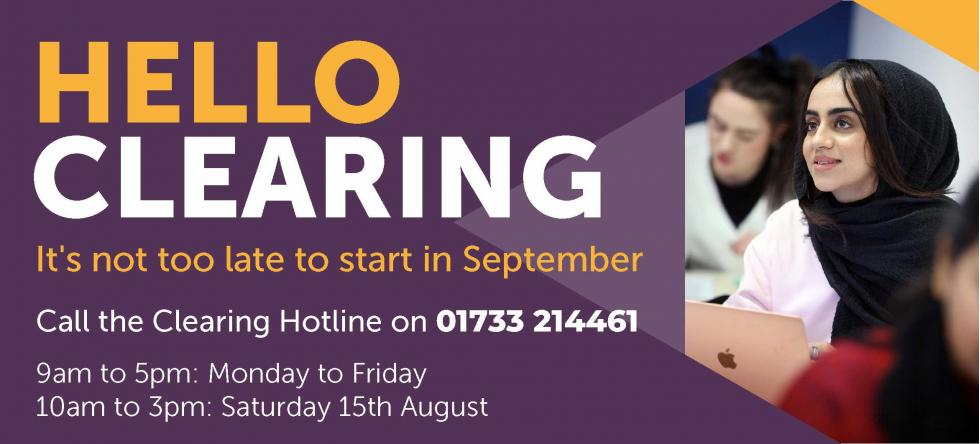 Why study with us?
Studying a degree at University Centre Peterborough will mean that you can benefit from smaller class sizes, plenty of individual support from your lecturers and still get face-to-face teaching from September 2020 as we can offer a blending learning approach.
As the majority of courses are studied as two full days a week plus there are part-time study options, you can really fit studying a degree around family, work or personal commitments.
Students who study in Peterborough can also be financially better off as we have lower tuition fees compared to other universities, you can apply for a maintenance loan of up to £9,203 per year and there are cash bursaries worth up to £1,500.
We are proud to hold our graduation ceremony at Peterborough Cathedral, which is one the most stunning and historic venues in the UK. The video below is of our ceremony from September 2019 with 900 students, guests and staff.
What is Clearing?
You can apply to University Centre Peterborough through Clearing if you've not yet applied, don't have a place confirmed or you've changed your mind about the course or where you want to study.
Clearing starts on 6th July 2020 so you can apply to us before you get your results, so there is no need to wait. You are advised to apply as early as possible to secure a place on the course, arrange your student finances and relax knowing your place is confirmed.
How to contact us
You can contact the Admissions team on admissions@ucp.ac.uk or by submitting the Clearing Callback Form below.
Alternatively, call the Clearing Hotline on 01733 214461, Monday to Friday from 9am to 5pm (or 10am to 3pm on Saturday 15th August 2020).
We can help you with the options available and will quickly confirm if we can offer you a place for this September.
Courses available at UCP
All the following courses have limited places available for September 2020:
Complete the form below to arrange a callback
Please note that UCP are currently accepting applications from UK and EU students for September 2020, but cannot accept applications from international students at present.
Please note this form goes to our admission team so they can get in touch with you. To formally apply through clearing please do so via UCAS on https://www.ucas.com/clearing-launch
Additional information and support
Click the links below for details of our virtual advice sessions and open days, important information for student starting in September (including how we are offering face-to-face teaching) and detailed information on all our courses.
Frequently asked questions
If you do not find the answer to what you are looking for, please contact us and we will respond as soon as possible.
What information do I need to have ready to apply?
Please make sure you have details of your achieved or predicted A-level, BTEC or level 3 grades as well as GCSE/GCE qualifications for English, Maths and Science (if required). If you have copies of your certificates these can be sent to admissions@ucp.ac.uk.
If you have already applied through UCAS, please have your UCAS personal ID available.
If you have not yet applied through UCAS, we will need you to have personal statement ready. Click here for a UCAS guide to completing your personal statement.
What if I didn't get the grades I expected?
Don't panic as its not uncommon for grades to sometimes be better or worse than expected. Please email admissions@ucp.ac.uk and we will quickly put you at ease and let you know if you still have a place.
What if I have applied to another university?
If you have a conditional or unconditional place at another university and now changed your mind on the course or where you want to study, you still have the opportunity to apply to University Centre Peterborough.

Firstly, email admissions@ucp.ac.uk or complete the Clearing Callback Form above. Once we have confirmed we will offer you a place, you can release yourself into Clearing via UCAS Track and then select University Centre Peterborough as your Clearing choice using our institution code P56.
How do I change my course at UCP?
If you've already got a confirmed place to study with us, but want to change to a different course, then you don't need to use the Clearing process, but instead simply email admissions@ucp.ac.uk.
Can I defer my course place to 2021?
If we have offered you a place and you would like to defer it to start in January 2021 (Business and Computing only) or September 2021 (all courses), do not use Clearing to do this but simply email admissions@ucp.ac.uk.
Can I study a degree part-time?
There are part-time study options for nearly all courses starting in September. If you are applying to study part-time, you can apply directly to UCP by completing the form below and returning to admissions@ucp.ac.uk.
Lorem Ipsum is not simply random text. It has roots in a piece of classical Latin literature from 45 BC, making it over 2000 years old. and going through the cites of the word in classical literature, discovered the undoubtable source. Lorem Ipsum comes from sections 1.10.32 and 1.10.33 of "de Finibus Bonorum et Malorum" (The Extremes of Good and Evil) by Cicero,