The British Conference of Undergraduate Research (BCUR) promotes undergraduate research in all disciplines. The Conference meets annually every spring in a different British university. Undergraduates of all levels are invited to submit papers, posters, workshops and performances to the Conference. Abstracts are peer-reviewed and those accepted are invited to attend the conference.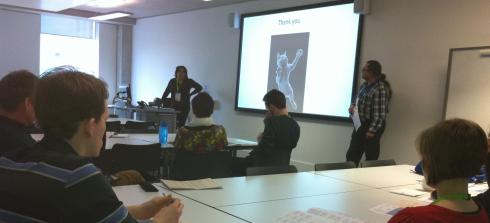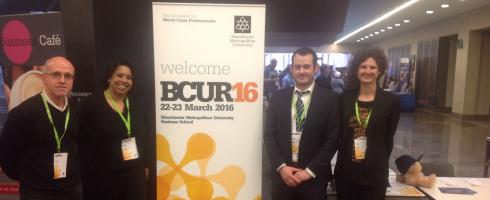 BCUR 2016 was hosted by the Manchester Metropolitan Business School. UCP were pleased to have all 4 of their first submissions to BCUR accepted. Under the supervision of Scholarship Development Manager, Leila Mars and with design support from Alex Nee, UCP students were able to showcase 2 presentations and 2 posters to a whole new audience of UK undergraduates, staff and HE leaders.
The following extracts are from the successful abstracts submitted to BCUR by UCP undergraduates:
Joshua Crane BSc (Hons) Sports Coaching and Physical Education

Foam rollers have become increasingly popular over the last decade for both professional and recreational athletes of multiple sports. Initially foam rolling was used in order to improve recovery times and soft tissue quality; often being marketed as a cost efficient alternative to regular sports massage treatments. Recent developments have seen foam rolling become an increasingly common aspect of a modern warm up routine, with claims that it will improve athletic performance however there is limited empirical evidence available to support these claims. This study was designed to evaluate the acute performance changes in power, strength and flexibility after the implementation of a foam rolling intervention.

Laura Colledge BSc (Hons) Sports Coaching and Physical Education

A questionnaire including a hyperlink to an online Myers Briggs Type Indicator (MBTI) was distributed via SurveyMonkey to teachers of PE, teachers of other subjects and a random sample of participants of other occupations. The personality type of 72 participants were analysed using the Pearson's chi-square test to identify significant association between a personality type and PE teachers. Results of the PE teachers were compared with teachers of other subjects and the control group. Personality type occurrence of the PE teachers was further analysed against the teachers' observation grades (using Ofsted measures) to determine if PE teachers achieving the highest observation grade (Outstanding) and their personality type were significantly associated

Tricia Poulter BSc (Hons) Computing and Information Systems

This Major Research Project aims to discover whether British species of trees can be identified recognising only their leaves with a handheld application to identify the species of tree using the normalised image of a unique leaf. It seeks to highlight different ways in which edges can be detected using customised enhancements to highlight the pixels around an image so that the difference and slight variation in pixel colour can be separated to determine which ones are edges.

Oliver Norris BEng (Hons) Integrated Engineering Top-Up

To address the research question this work takes a design-led research approach; a popular methodology in the field of Search and Rescue. Particularly, this work outlines the full design specification of a drone which aims to be capable of performing SAR operations. The design makes accommodations for the extreme conditions, long flight times, and autonomous functions of the drone. Elements of the design were simulated and tested with respect to the conditions which might be seen on SAR operations. This approach contributes both a potential design for SAR missions, and some initial data that highlights how this design may perform.
What do undergraduates get from taking part in BCUR?
Chance to meet like-minded students in their field with similar research interests
Opportunity to showcase their research to diverse audience and receive constructive feedback
Networking with academics from all disciplines and chance to grow their academic and professional network
Get a sense of what it is like to be an active member of the academic community
Meet international students and get perspective of studying in UK as compared to other countries
Chance to practise communicating their research which may improve performance in interviews for jobs
Improve their skill of formatting their academic work for publication
Encouragement to become independent and confident individuals
Inspiration from observing the presentations of other students and noticing how they "sell" their academic work and themselves
Ideas about where their research may take them in the future by hearing about professional pathways of other students
Chance to bring back their learning to UCP and share experienced and top tips with fellow students
BCUR 2017 will be hosted by Bournemouth University in late April. Details to follow.