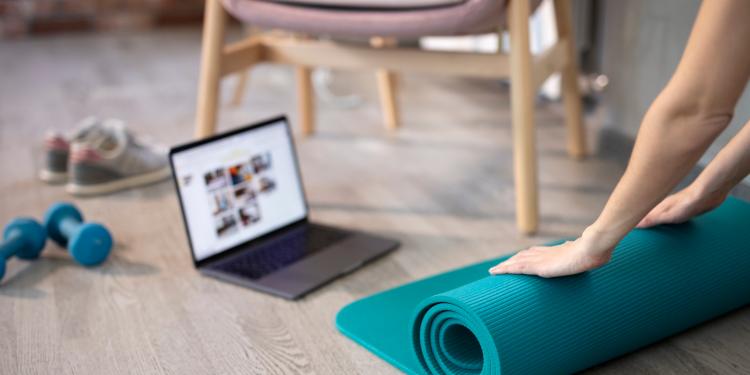 Move over Joe Wicks - UCP are offering a way for university students and staff to exercise your mind and body via YouTube during lockdown!
Starting on Wednesday 20th January 2021 from 5pm, there will be FREE weekly 45 minute online yoga sessions available for UCP students and staff.
The yoga sessions are geared towards anxiety management and relaxation and will be led by Claire Ellender who is an experienced yoga instructor. Sessions will draw on different styles of yoga, mindfulness-based stress reduction and meditation techniques.
All classes are suitable for beginners, intermediate and advanced participants so make sure you come along to this peaceful place and begin to access your inner calm.
To join the sessions, a YouTube link will be sent to UCP students via the Student Update email w/c 18th January 2021.
About Claire Ellender - Calmer with Claire
Claire first attended a Yoga class in 1999 and has never looked back. Ever impressed by the energising and relaxing effects of this practice, she has dipped into various styles of Yoga in many different locations over the past 20 years, but has the greatest affinity with Hatha, Restorative and Yin Yoga.
After working in France for 12 years, as both a translator and a university lecturer, Claire relocated to the UK in 2016 to pursue her long-standing interest in health and well-being. Since completing her first Yoga teacher training (Hatha) in 2017, she has taught Yoga in local health clubs and private venues, trained as a CBT therapist and a Reiki master and published her fourth book, Soothing the Self: Facts, Inspirations and Tips for Body, Mind and Spirit (2018: Austin Macauley). In 2020, she was delighted to have the opportunity to complete a second, 200-hour YTT, and additional certifications in Ayurveda, Chair Yoga, Restorative Yoga and Yin Yoga Teaching.
For more information about 'Calmer with Claire' please contact Claire Ellender at: calmerwithclaire@yahoo.com