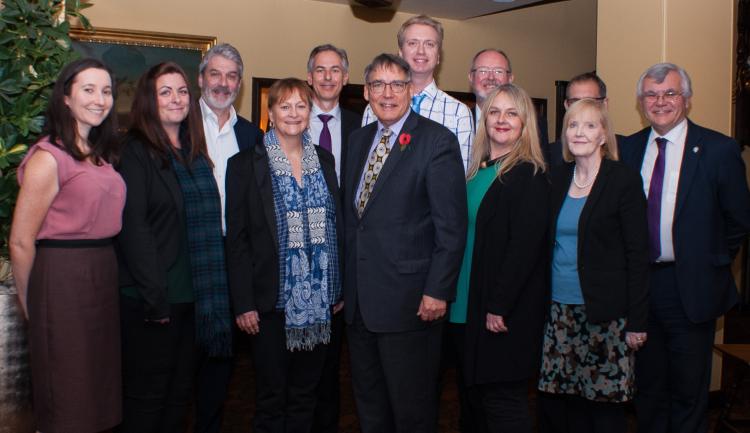 Peterborough's ambitious plans for the establishment of an independent university took another significant step forward this week with the appointment of Professor Sir Les Ebdon as Chairman of the Shadow Council of University Centre Peterborough.
Sir Les Ebdon brings a wealth of experience and expertise in the higher education sector and has previously been involved in the establishment of new universities at Plymouth and most recently Bedfordshire, where he was Vice Chancellor until 2012. Sir Les Ebdon was appointed Director of Fair Access to Higher Education in the same year.
Sir Les Ebdon said: "My appointment and the first meeting of UCP's shadow Council marks another key step in its journey to become an independent university and to help raise levels of educational achievement across the city. I am personally very excited to be asked to become part of this journey. For too long Peterborough was one of the largest cities in the country without its own university and levels of participation in higher education are correspondingly low.
"Since its creation in 2007, University Centre Peterborough has been successfully addressing this issue, but we need now to accelerate progress. That is what the shadow Council will be focusing on, alongside engaging with local employers to understand what skills the local labour market needs most so that we can structure our educational offer accordingly."
He continued: "I know from my own experience the opportunities that higher education can bring. One of the things that attracts me most to this role is the need to reach out to students and families from a diverse range of communities who don't think that university is necessarily something for them and open up those opportunities for them too.
"The passionate support and financial assistance of the City Council and the Combined Authority is also vital to our success and another reason why I was keen to be involved."
Councillor John Holdich, Leader of Peterborough City Council, said: "I am delighted by Professor Sir Les Ebdon's appointment. His experience of setting up new universities elsewhere in the country will be invaluable as we push ahead with this transformational project for Peterborough and its communities. The creation of the independent university is something I have personally campaigned for and supported for many years. It is far more than an educational project – it is a project that is fundamental to the success of the city."
Liz Knight, Chief Operating Officer of University Centre Peterborough said: "Sir Les Ebdon's appointment and the creation of the shadow Council is a huge step forward and another demonstration of our ambition. Since Peterborough Regional College and Anglia Ruskin University started the joint venture in 2007, we have made great progress and we are indebted to them for their vision and hard work in getting UCP to this point. They will continue to have important roles to play as we move towards the creation of an independent University Centre Peterborough next year and in due course an independent University of Peterborough."
Dr Trevor Bolton, Pro Vice Chancellor (Partnerships) at Anglia Ruskin University said: "We are delighted Professor Sir Les Ebdon has been appointed to this role. He brings a huge amount of experience which we be invaluable in addressing the challenges ahead."
The Council will operate in shadow form until August 2019 when University Centre Peterborough will be established as a separate legal entity (currently it is a joint venture between Peterborough Regional College and Anglia Ruskin University). This is a critical step to achieving 'taught degree awarding powers' which will pave the way for the independent university to be created.
The first meeting of the shadow Council was held on Monday 12 November 2018. The shadow Council also has student and staff members as well as representatives from Peterborough Regional College, Anglia Ruskin University, Peterborough City Council and the Combined Authority plus independent representatives from the local business, voluntary and educational community.
The announcement of the appointment of Professor Sir Les Ebdon and the formation of the shadow Council comes after last month's announcement by Peterborough City Council that it had started a feasibility study to create a new student campus on Bishops Road. Earlier this year the Cambridgeshire and Peterborough Combined Authority announced that it had allocated £9.74 million for the establishment of a new campus in the city centre. The new independent university is hoped to grow to 12,500 students by 2035 according to its current plans.