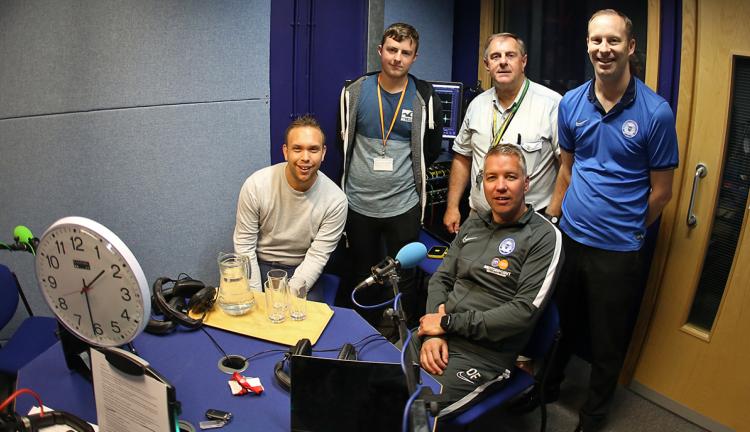 Students at University Centre Peterborough and Peterborough Regional College have gained valuable work experience as part of a link-up with Peterborough United Football Club.
The football club launched its official podcast, #AUnitedCity, with episodes available to stream or download via Apple Podcasts, Spotify and Google Podcasts, amongst other Podcast streaming platforms.
The 45-minute podcast was recorded at the Media and Journalism Centre and will be a regular feature during the Sky Bet League One campaign, with manager Darren Ferguson the first special guest.
The podcast will enable media and journalism students to take part in live work experience, giving them an essential insight into the media industry and sports-based productions.
Nick Reinis-Keightley, Curriculum Leader for BA (Hons) Journalism and BA (Hons) Media Production degrees at UCP, said: "This is a fantastic project and I'm hugely grateful to Peterborough United for thinking of us when deciding how to put the podcast together. We're delighted to be able to help and it's great to see the football club benefit from our fantastic facilities. We have an excellent relationship with the club, having worked on several projects in the past that have really benefitted our students, and we're really happy to see this continuing in a new and exciting way. It's been a long-time in the making to ensure that all of the parts of the podcast can work smoothly and the students will gain a huge amount of knowledge from regularly working on this production."
The first podcast features 'Getting to Know You', as the club find out just how well Darren knows chairman Darragh MacAnthony and Come Dine with Me, with striker Ivan Toney.
Marketing Executive and producer of the Podcast, Jake Baxter said: "The Podcast has been something which we have been wanting to record and launch for a while now, so it is great that we are able to finally launch the #AUnitedCity podcast. Going forward the Podcast will feature a number of special guests from the football club and the city as a whole. I would like to thank the team at the Media and Journalism Centre for their help in making the Podcast a reality."