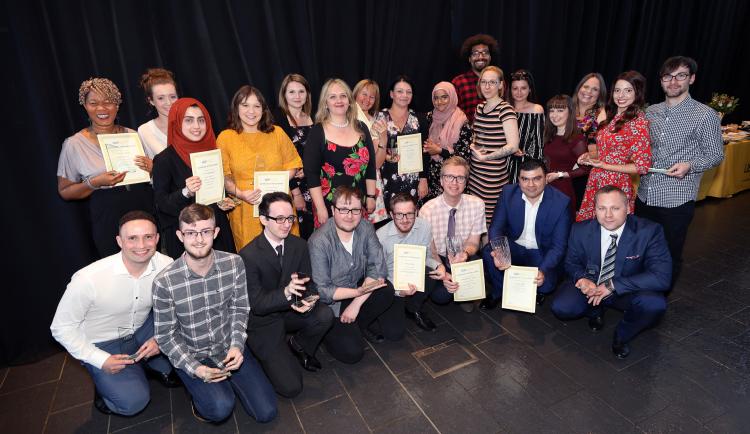 Congratulations to all of the winners at the seventh annual Student Experience Awards which took place on Thursday 10th May 2018. This event recognises successes and celebrates the milestones that students achieve on their way to graduation.
All those who have been nominated have demonstrated commitment, dedication, enthusiasm and application which are attitudes and values that are necessary for personal success and development.
Thank you to all of the students and staff who nominated the winners and all of the guests who presented the awards.
The full list of winners are:
Course Academic Awards
Based on a variety of elements of a student's academic life including academic success, contribution to group work (non-assessment based), support to their peers and progression within their academic studies.
ARTS, LAW & SOCIAL SCIENCES
BA (Hons) Archaeology and Landscape History
Matthew Stevens
BA (Hons) Criminology
Bethan Jones
BA (Hons) English Literature
Tracy Thorndike
BA (Hons) Media Studies
Matthew Deane
BA (Hons) Multimedia Journalism
Jade Milnthorpe
BA (Hons) Performing Arts
Holly Harrison
BA (Hons) Psychosocial Studies
Mel McMillan
FdA & BA (Hons) Public Services
Rosina Edzia
BA (Hons) Sociology
Jack Morrell
BUSINESS SCHOOL
BSc (Hons) Accounting & Finance
Fereshta Bahader
BSc (Hons) Business Management
Holly Sharman
EDUCATION
FdA Early Years, Childcare and Education
Chelsea Littlefair
BA (Hons) Education
Emma Parnell
SCIENCE & TECHNOLOGY
FdSc & BSc (Hons) Bioscience
Rea Tatem-Dokter
BSc (Hons) Computing & Information Systems
Jamie Duell
FdSc & BSc (Hons) Crime and Investigative Studies
Rahima Khan
BEng (Hons) Integrated Engineering
Aaron Stevens
BSc (Hons) Sports Coaching and Physical Education
Sharon Boswell
PETERBOROUGH REGIONAL COLLEGE PROVISION
HNC/D Civil Engineering
Kieran Butroid
HNC Electrical and Electronic Engineering
Gwylim Herbert
HNC/D Manufacturing Engineering (Polymers)
Joshua North
HNC Mechanical Engineering
Kamil Mroz
HNC/D Construction Management
Matthew Halmshaw
Outstanding Support Award
This award is a student only nominated award for a member of staff who has helped students throughout their studies providing support, advice and guidance over and above the expected standard.
Tracey Tilbury
Evening Receptionist and Administrator
Outstanding Lecturer Award
This award is for a UCP Lecturer who has helped students throughout their studies providing quality lectures, tutorials and guidance over and above the expected standard.
Hussan Nasir
Lecturer, Accounting and Finance
University Centre Peterborough Award
This is very special award for a student, who has been nominated by staff and students, as having improved the most in both academic and social aspects, alongside making a significant contribution to university life.
Richard Greensmith
Level 6, Bioscience