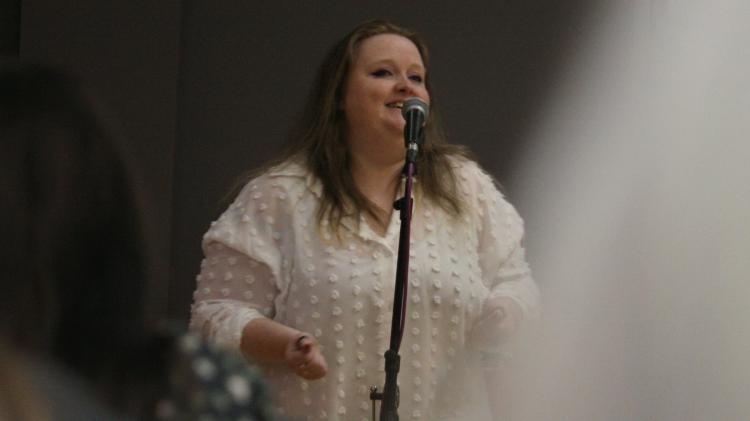 Crowned Poet Laureate of 2022, English Literature with Creative Writing undergraduate Kat Beeton stunned Syntax Poetry Fesitval judges on 25th March 2022 with Here I Am, a poem celebrating the beauty within difference.
Already making a significant impact within the local writing community, Kat is a founding member of the Creative Writing Society (CWS) and The Other Side: An Anthology of New Writing, and has now beaten hundreds of applicants to be bestowed Peterborough Poet Laureate 2022.
Kat said, "Last night (25th March 2022), I became the new Peterborough Poet Laureate. I'm still bobbing along in a surreal bubble wondering if it actually happened. My poem, Here I Am, was my take on the theme manifesto. It is about where I've come from, where I am, and where I wish I was; it is my empowered self mixed with all my vulnerability.
Being Poet Laureate, for me, means a bigger platform and a louder voice to do the things I am passionate about. We are all different - shape, size, age, ethnicity, orientation, background, and outlook - but there is beauty in that difference, and I want to celebrate that.
I want to work with people to find their creative voice, especially those who find it difficult to express themselves out loud but can find themselves on the page. I hope to work with organisations, schools and colleges to provide free workshops, readings and participate in events so that those who might not normally have access to the arts, can join in on creative projects. I want to change the mindset that I still encounter far too often - poetry and the arts are not a luxury, they are for everyone, and so important to our wellbeing."
Congratulations Kat, University Centre Peterborough is incredibly proud of you and we wish you all the best with your future in literature and ambitions for change.