The Bridport Prize run international creative writing competitions and earlier this year opened up a LET IT OUT competition just for university students about how the pandemic has impacted their life.
In just 400 words they wanted students to focus on the highs, lows and laughs to show the different points of view of undergrad life in the shadow of Covid.
Kayleigh Cutforth who is studying BA (Hons) English Literature with Creative Writing at University Centre Peterborough was one of four winners to have her short story selected.
"Three Minutes" is a humorous insight into what it is like for a mature student and parent of a young daughter coping with studying a degree.
The Bridport Prize aims to discover new voices in literature and creative writing talent from around the world and run poetry, short story, flash fiction and novels competitions.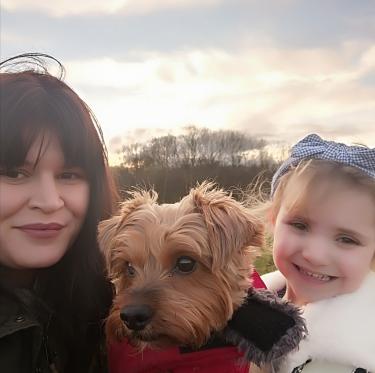 Below is her winning short story, which was published here: www.bridportprize.org.uk/news/student-voices-during-the-pandemic
Three minutes
I squint at the alarm clock which reads 6.30am – it hasn't gone off in four years thanks to my daughter, who has taken it upon herself to be my living, breathing time piece. Still, I set it every night anyway. Just in case. She's been awake for an hour already, which is the heavy price I pay for jostling her off to bed at 6.00pm every evening for a couple of hours of peace. I roll over and close my eyes; the longer we stay in bed the shorter the day is. At least that's what I tell myself, I think I'm starting to believe my own lies. I hover between sleep and consciousness for another hour while being simultaneously serenaded by nursery rhymes and the 'Frozen' soundtrack.
Coffee. The only thing that can tempt me out of these warm sheets and into another day. I crawl out of bed and into the kitchen. Online lectures start at 10am. Between now and then I need to charge my laptop, my wireless earphones and my phone, squeeze in some phonics with my daughter and make myself look presentable (at least from the waist up). I plug everything in and step into the shower. The warm water makes me sleepier and I debate whether to turn the tap to cold. I've spent the last three weeks reading about the power of icy water and how cold showers are the key to becoming super-human. Now at the crucial moment I can't bring myself to do it. Once dressed I have fifteen minutes to decide whether to dress my daughter or tidy the living room floor (just in case anyone happens to catch sight of it behind me). I tidy the living room floor and begin assembling the laptop and phone on the kitchen counter. The phone sits precariously on top of the biscuit tin propped up by the pen pot. Any sudden movements and the whole thing comes crashing down. Ten minutes to go. I realise I haven't read the short story but if anyone needs to know the words to 'A Very Hungry Caterpillar', I'm your woman. I fill a Tupperware box with snacks for my daughter and place her out of sight in front of the TV. 10am.
I look over my shoulder and smile wondering how long it will be before I hear the word 'Mummy' and have to mute my mic. I've got my money on three minutes.