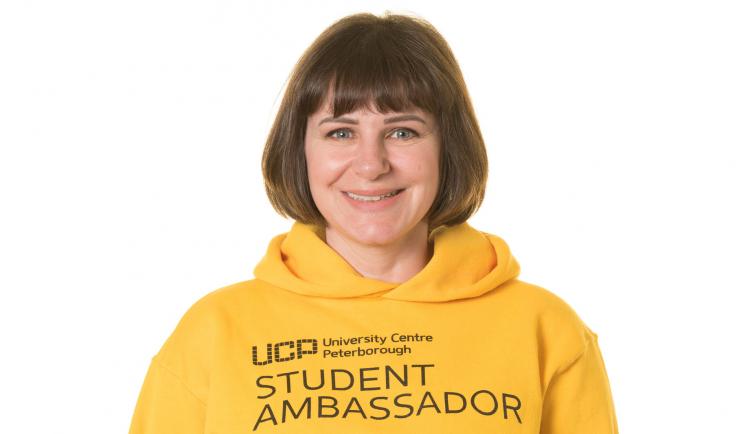 University Centre Peterborough (UCP) student Sharon Boswell has been awarded a prestigious award in recognition of her contribution to her community.
The Vice Chancellor's Leader Awards are presented annually by Anglia Ruskin University (ARU) to celebrate and reward exceptional contributions made by students to extra-curricular activities with just six awards are available each year.
To become eligible for the prize, students must contribute at least 90 hours of work with their community, both inside and outside of university. Sharon committed over 200 hours working as a Student Ambassador at UCP to support students settling in to university life, and as a Research Ambassador to promote scholarship and employability. The degrees available at University Centre Peterborough are validated by ARU which is why UCP students are eligible for this award.
She also logged more than 100 hours by running voluntary sessions at the Peterborough United Futsal Academies. Her specialist input allowed POSH to run sessions on sports psychology that would not have otherwise been available.
Sharon has recently secured a first class honours degree in the BA (Hons) Sports Coaching and Physical Education. She will receive her £1,000 prize and certificate at the University Centre Peterborough graduation ceremony at Peterborough Cathedral on 20th September 2018.
She will continue to use the research skills acquired through her studies at University Centre Peterborough in employment as a research assistant at Anglia Ruskin University.
Talking about the accolade and her experience as a mature student at University Centre Peterborough, Sharon said:
"Feeling more engaged and part of the University made me more aware of the amazing opportunity that there is in Peterborough to come to a small, caring institution and I wanted to share this more."
"I have built friendships across the university, gained respect, and made contacts in the wider sporting community and ultimately grown into the type of student who now thinks applying for a PhD is the next logical step."