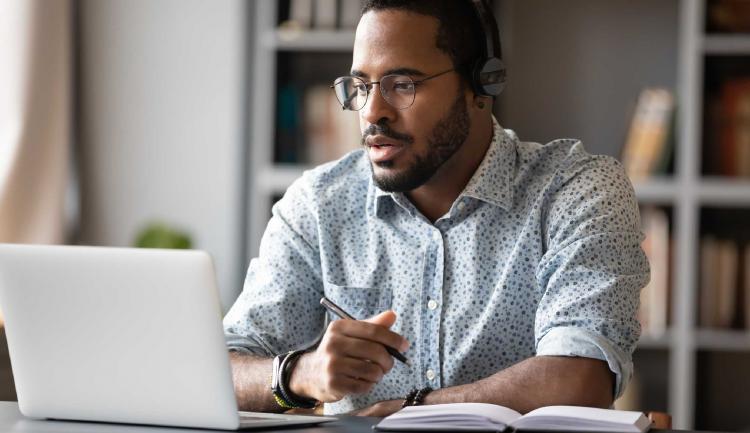 During this time, many of you will be working from home or having virtual lessons online with your lecturers and other students. For some of you, this may be the first time you've had to do this, so may take a bit of getting used to.
We've come up with a few top tips to make this as smooth as possible and conducted in a professional and organised manner – just as if you were face to face in your usual office or class environment.
Find a quiet space or create a dedicated area
Your location is critical during a conference call. If you're in a loud area, you may have difficulty hearing the conversation. Find a quiet area in your home and shut the door, leaving out the outside surroundings. By being in the same area with others, you may find yourself quickly distracted and missing important information.
Tell others in your house so not disturbed
Make sure you tell the people you live with that you're on a call so they know to keep the noise down and not disturb you. We've all seen the Professor Robert Kelly video with his children storming into the room during a live TV interview.
Tidy your surroundings and do not leave confidential items on show
If you're in a messy room with lots of distractions behind you, that doesn't look very professional. Although you're working from home, you're still in a professional situation. Best to just do a quick check of your webcam to see your background before you start.
Use headphones to avoid noise feedback
There is nothing more annoying that noise feedback when on a call. A simple way to fix this is wearing headphones throughout to ensure that this doesn't happen.
Remember you might be on camera when not speaking
Just because you're not talking, doesn't mean people aren't looking at you. You may forget with being in the comfort of your own home but act like you would as if you were all in the same room (yes they will see if you just rest your eyes for a few moments!).
Be punctual and arrive early
Just like any other business meeting, it is important that you arrive early. Dial into the call a few minutes early. If you wait until the last minute, you may encounter a technology issue that can take time to fix.
Speak loudly and clearly
When you speak, slow down the rhythm of your speech, take pauses and most importantly speak loudly when you talk to ensure everyone can hear you.
Wear appropriate clothing
Just like you wouldn't wear your PJs to work or uni (we'd hope), don't wear them on a conference call, at least your top half anyway. We're not saying you have to wear business wear but rocking up in your dressing gown looks unprofessional and can send out the wrong impression.
Conference calls may be the norm for the foreseeable future so ensuring you make the most out of them is essential.