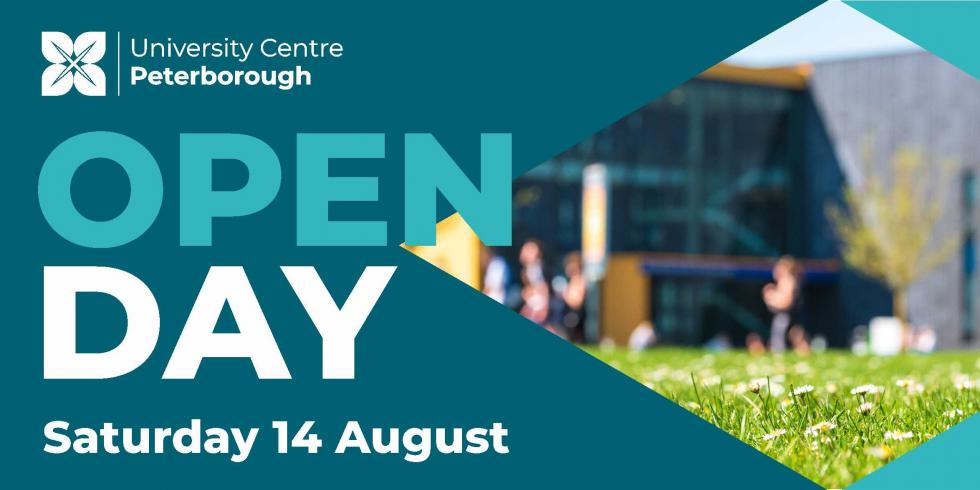 At our Open Day you can speak with staff and students, see our modern and spacious facilities as well as attend a variety of talks.
Our next Open Day is on Saturday 14th August 2021 from 10am to 1pm
At University Centre Peterborough (UCP) we pride ourselves on being able to spend time with our students and give them all the help and support they would expect when they study with us.
Our Peterborough campus will be open to the public for the Open Day on Saturday 14th August from 10am to 1pm so you can see our modern and spacious facilities in person.
This Open Day takes place after A-level and BTEC results are announced on 10th August so you can be reassured we can help you find a course to start this September.
We have also planned this Open Day so you also have the option to speak to staff online by requesting a meeting virtually.
Please see below for more information about booking.
1:1 SUBJECT MEETINGS
At our Open Day, you can have 1:1 subject meetings with staff where you can find our more about the courses available and we can advise whether we can offer you a place to study with us on the day.
STUDENT SUPPORT, ACCOMMODATION & EMPLOYABILITY
If you would like to speak to a member of staff about Student Support, Student Accommodation or Employability you can visit our support teams on the day.
STUDENT FINANCE & UCAS APPLICATION TALKS
On the day there will be a carousel of live information talks in the lecture theatre about student finances and the UCAS application process. There will be the opportunity to ask questions as well. You will be sent times of the talks after you register to attend the Open Day.
VIEW OUR CAMPUS
Our modern and spacious Peterborough campus will be open to visitors for the Open Day and we will have students available to provide campus tours.
If you would like to see our facilities beforehand, we have created a series of virtual tours and videos. These can be viewed by visiting www.ucp.ac.uk/virtualtour
FREE CAR PARKING
We have free car parking at our Peterborough campus from 9.30am to 1.00pm. You do not require a permit to display on the day.
BOOKING
To attend the Open Day you must register in advance. The last time for bookings is 1pm on Friday 13th August 2021.
CLICK HERE to register and book 1:1 sessions for the Open Day
If you want to request a 1:1 subject sessions online/virtually, you must request this by emailing ucpevents@ucp.ac.uk by 1pm on Friday 13th August 2021 stating the subject(s) you wish to study.
GUESTS CAN ATTEND
Your family/partner are welcome to come with you and they do not need to book separately.
COVID SAFETY
Even though there should be no national restrictions in place, our campus will follow all safety guidelines and social distancing measures to ensure the safety of our staff, students and visitors. It is important to us that you feel comfortable to visit our campus.
OTHER EVENTS
If you cannot attend the Open Day on Saturday 14th August 2021, we also run regular Virtual 1:1 Advice Sessions. For more information about these sessions please visit www.ucp.ac.uk/events
ANY QUESTIONS?
If you have any questions about the Open Day please email ucpevents@ucp.ac.uk