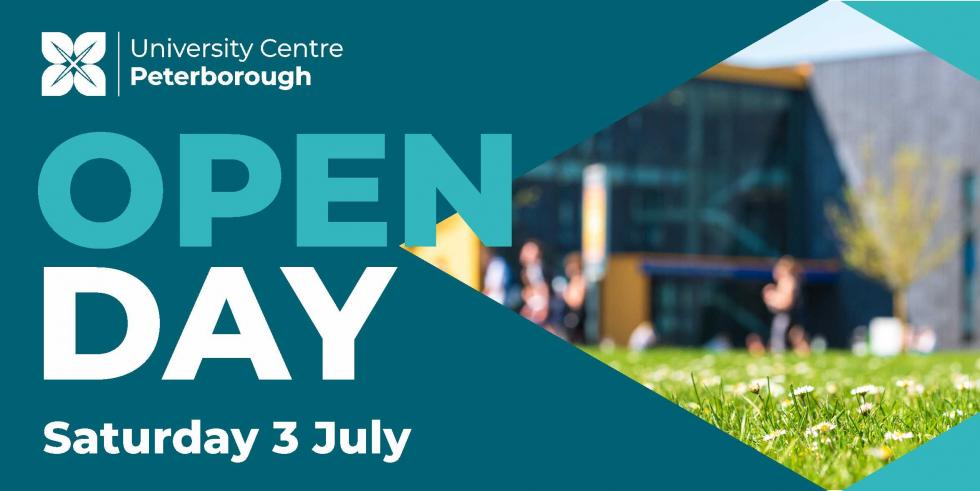 At our Open Day you can book 1:1 sessions with subject staff and attend talks about UCP, student finances and the UCAS application process.
Our next Open Day is on Saturday 3rd July 2021 from 10am to 1pm
At University Centre Peterborough (UCP) we pride ourselves on being able to spend time with our students and give them all the help and support they would expect when they study with us.
REGISTER TO ATTEND IN PERSON OR ONLINE
We have planned this Open Day so it will run in the same format whether you can attend our Peterborough campus in person or if it has to be online due to Covid. We will be following the latest guidance for events and social distancing to ensure our visitors and staff are safe. If the event has to be online you will still have 1:1 meetings at the same times you have booked.
CLICK HERE to register and book 1:1 sessions for the Open Day
Please see below for more information about booking.
1:1 SUBJECT SESSIONS
At our Open Day, you will receive a personal experience as you will be able to speak to our course staff by booking 1:1 sessions (lasting 15 minutes) where there will be the opportunity to ask questions. Early booking is advised to get your preferred time.
LIVE PRESENTATIONS
You can attend a series of live presentations which will cover Student Finances, UCAS Application Process and Student Life. These will take place every 30 minutes and last approx 20 minutes with the opportunity to ask questions.
STUDENT SUPPORT, ACCOMMODATION & EMPLOYABILITY
If you would like to speak to a member of staff about Student Support, Student Accommodation or Employability you can book 1:1 sessions for these to ensure your confidentiality. Early booking is advised to get your preferred time.
VIEW OUR CAMPUS
So you can view our campus before the event, we have created a series of virtual tours and videos. These can be viewed by visiting www.ucp.ac.uk/virtualtour
BOOKING
All 1:1 sessions must be pre-booked in advance and are subject to availability as you can book your preferred times. Last time for bookings is 10am on Friday 2nd July 2021. If all 1:1 subject sessions are fully booked, please add yourself to the waiting list and we will arrange a convenient time for you on the day or at another time.
CLICK HERE to register and book 1:1 sessions for the Open Day
If you have to attend online, we will send you joining instructions by 5pm on Friday 2nd July 2021 . To attend online you will require access to a device with a camera (such as a smartphone, tablet, laptop or PC) so that we can talk to you and show you information on your screen.
If you have any questions about the Open Day please email radford.hudson@peterborough.ac.uk
FREE CAR PARKING
If you are attending the Open Day in person, we have free car parking on our Peterborough campus from 9.30am to 1.00pm. You do not require a permit to display on the day.
OTHER EVENTS
If you cannot attend the Open Day on Saturday 3rd July 2021, we also run regular Virtual 1:1 Advice Sessions. For more information about these sessions please visit www.ucp.ac.uk/events