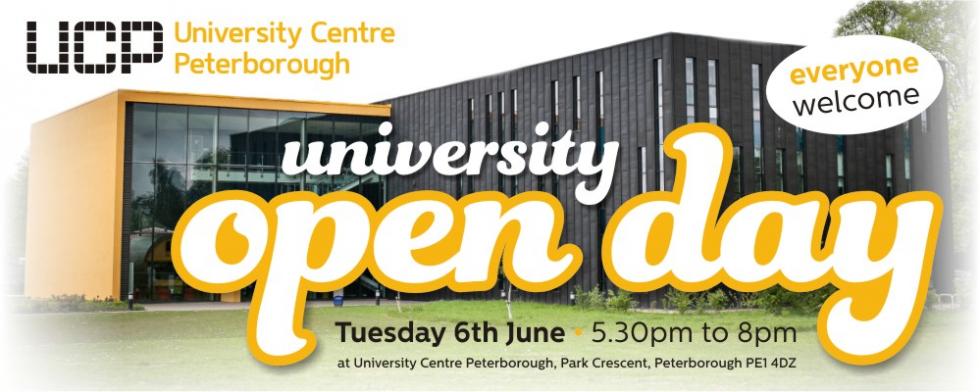 Our next Open Day is on Tuesday 6th June, 5.30pm to 8.00pm
Open Days are a great way to get a snapshot of what university life is like at UCP and provide you with all the information you need.
On the day you will be able to have a look around the campus and speak to lecturers about the courses on offer. We will have various displays and demonstrations for our courses and current students will also be on hand for you to talk to.
We will also have welcome and financial talks in the lecture theatre as well as information stands about Applications & Admissions, University Clubs & Societies, Student Welfare & Financial Support, Library & Learning Resources and Student Accommodation.
Information Talks
We have a series of information talks which you are recommended to attend as they will give invaluable knowledge before starting university. No advance booking is required, just turn up 5 minutes before the talk starts.
Welcome to UCP: 5.20pm to 5.30pm / 6.15pm to 6.25pm / 7.00pm to 7.10pm
Student Finance: 5.45pm to 6.10pm / 6.30pm to 6.55pm / 7.15pm to 7.40pm

Campus Tours
Campus tours are led by a Student Ambassador and will start at the UCP reception on the ground floor. They will take place every 30 minutes and last 10 minutes or 25 minutes if you wish to see the Sports Lab and Lifestyle Fitness which is close to the UCP campus.
Starting at 5.30pm, 6.00pm, 6.30pm, 7.00pm and 7.30pm
Car Parking
There is free car parking on our campus for visitors to the Open Day.
Please complete to form below to register