At UCP we are incredibly proud of everything our students achieve throughout their studies.
As an institution we received five commendations during the last Institutional Review and have excellent links with local businesses for placements, paid internships and post-graduation employment (BGL/ Compare the Market, city schools, Larkfleet ,Enterprise Cars, Western Union, Cynergie and Peterborough Cathedral to name just a few).
We also have effective engagement with the third sector with five of our Criminology students engaging in initiatives for Crimestoppers, and others working through the Heritage Lottery Fund to promote heritage and its accessibility for young people. This also enables students to develop original research areas for their dissertations and develop the necessary skills to progress to masters study.
Our progression rates into employment or higher study are good with many students working in their chosen fields and developing their CV's alongside their studies. Our Computing degree students have also had success in industry alongside their studies when they were offered a 12 week paid internship with national software company BGL Group who run the Compare The Market website
Some of these students are subsequently offered a full time job after graduation on the strength of their performance. We work closely with BGL who are continuing their recruitment by offering more Computing Degree students placements.
Other past internships have included work with the Leicester Tigers in strength and conditioning and Living Sport to coach in local schools. Students have also undertaken teaching placements in China and volunteer work with the Citizens Advice Bureau.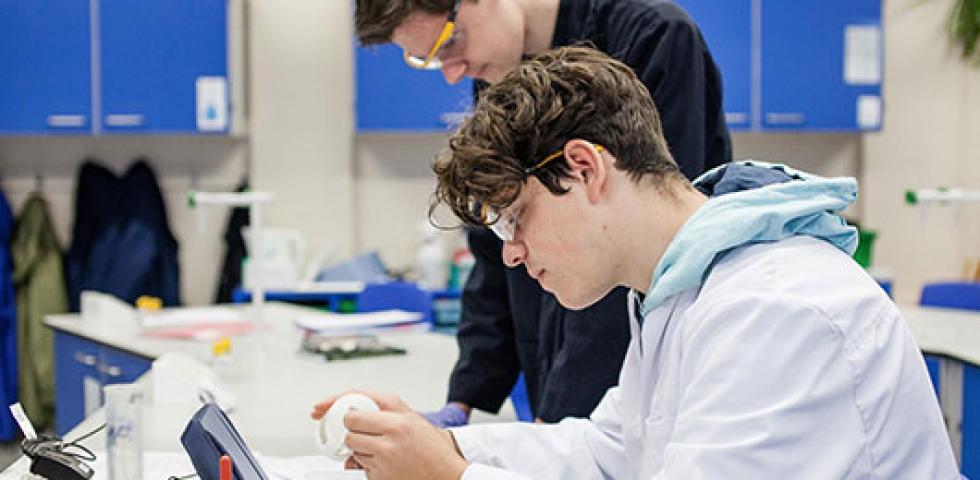 Their work is appearing in national titles such as Harpers. Companies are keen to work with us to develop graduate recruitment opportunities.
Choosing a career in teaching is a popular choice for many of our graduates either through employment at Peterborough Regional College or by undertaking further study on PGCE courses.
One successful scheme has been the Academic Mentor Scheme launched by Ormiston Bushfield Academy, where 12 of our students work as mentors and intervention workers.
This scheme and opportunities to run activities for the Children's University has been truly beneficial for those wishing to pursue a teaching career.
Student Ambassadors scheme
We have embedded a successful Student Ambassadors scheme to ensure effective and prompt support for students because let's face it, who understands a student better than a student? Our Ambassadors develop transferable skills and reflective practice which enhances both their employability and academic acumen. It's a flexible role that doesn't impact on their studies, but provides the opportunity to work at open days, school visits, UCAS fairs and offer guidance and support for their peers. In 2015 we also created three new Student Scholarship Ambassadors with the remit of selecting student work for publication and dissemination. The Undergraduate Research and Design Conference in Engineering and Computing is an annual event that allows students to showcase their work to employers. Companies are identifying and supporting the development of a future talent pool.
National Student Survey (NSS)
Our National Student Survey (NSS) results are impressive, with BSc in Computing and Information Systems and Journalism achieving a 92% satisfaction rate in 2014. Overall satisfaction at Peterborough Regional College was 90 % which is significantly above benchmark. Overall degree classifications remain high, with 13% of the 2012/13 English graduates receiving a first-class honours and 70% achieving a 2:1. 80 % of engineering students achieved 2:1 or above with 40 % achieving a first-class honours in 2014.
Our Foundation Degrees
Have a great success rate and our FdA graduates have gone on to secure inspiring roles across a number of sectors. Progression routes have included front-line service as Special Constables with the Cambridgeshire Constabulary and First Responder Trainers for the Ambulance Service. Graduates have also moved into education with some becoming Learning Support Workers at Peterborough Regional College, and others have moved into the Early Years sector.
Our students are encouraged to take part in activities outside of their studies .Three students won awards for 'Best Presentation' at the annual Anglia Ruskin University Comparative Criminal Justice Conference and a Criminology student was the General Secretary of the local Crime Stoppers branch and organised students to deliver an anti- theft cycle campaign across the city to schools and youth groups. There is extensive volunteering across the social science provision which has enhanced student CVs and employability.
Volunteering and skill acquisition is common place across the centre as many students enhance their CVs and confidence by supporting Coding Clubs for schoolchildren, offenders through the YMCA gym initiative and Victim Support and Rape Crisis. Archaeologists were engaged in a community excavation at Fane Road to build skills and heritage experience.
We work with our Sports degree students to provide a Sports Council, with a mission to promote sports, health and wellbeing to all UCP students. This actively promotes the achievements of teams and individuals and seeks opportunities to engage in national, regional and local events e.g. Sports Relief, Race for Life, and the Dragon Boat Race. We support both competitive and recreational sports and work closely with Active Anglia.
As part of the STEM festival each year the university hosts a number of events including in 2014 the inaugural Peterborough Raspberry Pi Jam. The main STEM events include a series of guest lectures by leading authorities such as: David Heming, the Senior Coroner for Peterborough lecturing on Coroners, Evidence and Procedure at Inquests and Dr Stuart Hamilton, a Home Office Registered Forensic Pathologist and forensic pathology advisor for the series of popular BBC drama Silent Witness. In 2015 Nathan Winch, founder of Winchpharma, delivered a series of workshops on science and enterprise.
As part of Peterborough Cathedral's planned celebrations for its 900 year anniversary in 2018, the Heritage Lottery Fund has awarded a grant for the "Peterborough 900: Letting it speak for itself" project. Over the duration of this project UCP students have been involved in a number of opportunities including: Management and Education Internships, an Arts and Photography competition, Cloister Archaeology, a Library project with an online catalogue, the creation and maintenance of a website and Media students have taken an active role in the creation of educational videos and films. An Accounting and Finance student was appointed as a project manager for 2014/15 gaining valuable insights and additions to their CV.