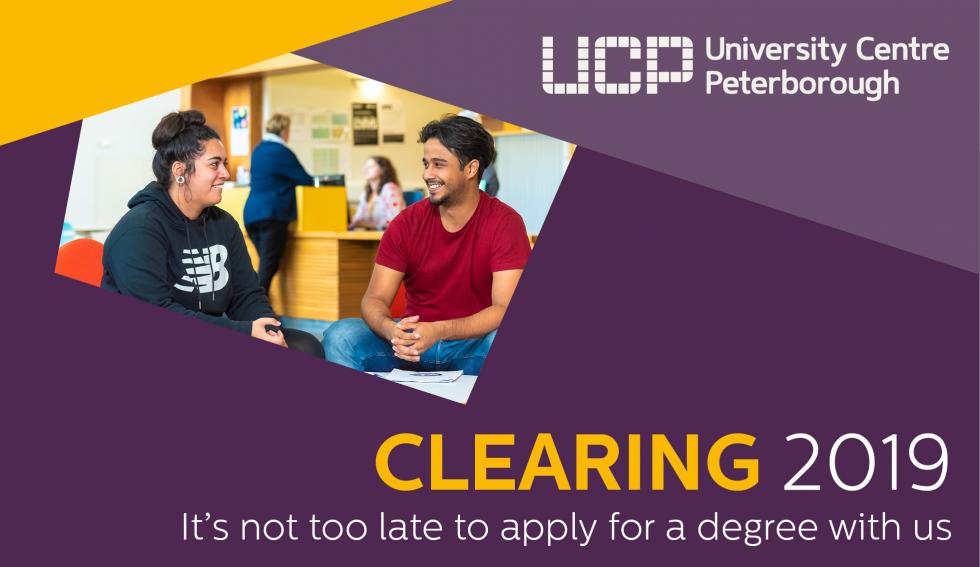 WHAT IS CLEARING?
Clearing is your opportunity to apply for a degree at University Centre Peterborough.
You can start your application today as Clearing is open from July through to September, but we recommend you apply as early as possible before spaces on courses are full up.
If you have not yet received your results, you do not need to wait until your results come out as you can beat the rush and make your application now.
You can apply through Clearing if you:
have not yet applied for a degree course
changed your mind about the course you want to study
changed your mind on the place where you want to study
didn't receive any offers from other institutions
had better or worse qualifications on results day
By studying at University Centre Peterborough you will benefit from smaller class sizes, individual support from lecturers and the majority of courses are studied for two full days a week to get opportunities for work experience and placements.
The tuition fees at University Centre Peterborough are lower than the majority of other universities and we offer £500 cash bursary schemes which could be worth up to £3,000 per student.
HOW TO APPLY
For help and support during Clearing simply call our admissions team on 01733 214461 or email admissions@ucp.ac.uk and we will make this a stress-free experience.
During this time of year we have additional staff so you can speak to admissions and academic staff who can quickly advise if you can be accepted on a degree.
We are used to helping hundreds of students at this time of year so you can feel assured that you receive the best advice and support.
CLEARING COURSES
All of the courses below currently have Clearing places available:
UNDERGRADUATE COURSES
HIGHER EDUCATION COURSES
COME AND VISIT US
If you would like to visit University Centre Peterborough before applying there are plenty of opportunities during Clearing. Staff will be available to help you with any questions you may have.
DROP-IN SESSIONS
Would you like help with the paperwork involved in applying to University? Are you finding you need guidance with your Student Finance application?
If so, we can help as we are offering uni advice drop-in sessions to help you with your UCAS application, provide guidance with your student finance application, and answer any questions you may have.
CAMPUS VISITS
Our campus visits last 60 minutes and include a series of information talks plus there will be a tour of the campus and the opportunity to ask staff and students questions.
Advance booking required due to limited spaces. Friends and family are welcome to come with you and there is free parking available.
CLEARING OPEN DAY
Our Open Days give you the chance to speak to lecturers and students about the courses on offer, tour the campus, attend talks about university life and how to support your studies.
Our university staff and students will be available to answer questions about the courses on offer, how to apply, student welfare, financial support and student accommodation.
FREQUENTLY ASKED QUESTIONS
What information do I need to have ready to apply?
Please make sure you have details of your Level 3 grades (actual or expected if you are still waiting for your grades) as well as GCSE qualifications.
We will need your personal contact information so remember your full home address including post code, email and date of birth.
If you have not applied through UCAS at all, we will need you to have personal statement ready.
What if I didn't get the grades I expected?
Don't panic. If you have done better or worse than you expected, contact University Centre Peterborough on 01733 214461 or email admissions@ucp.ac.uk and we will let you know very quickly.
What if I have applied to another university?
If you have applied to and have been accepted to study at another university, you still have the opportunity to change where you study.
Firstly contact us on 01733 214461 or email admissions@ucp.ac.uk so we can look at your application to see if we can offer you a place of study. Once you have received a response from us you can contact the other university and ask to be released into Clearing. Once this is done, you can select University Centre Peterborough as your Clearing choice through UCAS Track, using our institution code P56.
What if I want to change the course I want to study?
If you have already applied to University Centre Peterborough and want to change the course you want to study we can arrange this for you. Contact us on 01733 214461 or email admissions@ucp.ac.uk and providing you still meet the entry requirements we can update this for you.
What do I need to do if I want to study part-time?
University Centre Peterborough offers part-time options for the majority of undergraduate and higher education courses which are usually studied one to two days a week. Part-time students do not need to go through UCAS Clearing but can apply directly to us. Contact us on 01733 214461 or email admissions@ucp.ac.uk for further information.