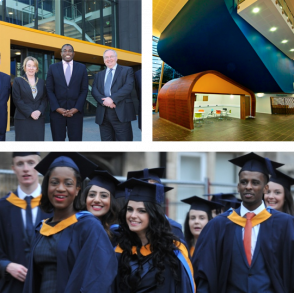 While you are studying with us we aim to support your development and assist you in achieving your career ambitions.
We very much care about you as individuals and one of our key objectives is to ensure we listen to your views and continuously develop our provision so that your needs are met.
The University Centre offers a broad portfolio of courses covering a range of subject areas and we are rapidly developing specialisms in a number of key areas.
Our portfolio is constantly being revised and updated to take account of the emerging needs and aspirations of local, national and international markets.
Since opening our purpose built £10 million campus in the heart of Peterborough, we have grown our portfolio of courses to reflect the needs of students and local, national and international employers. This has led to genuine employment opportunities for our graduates in their chosen career path as well as opportunities to build academic skills necessary for post-graduate study.
University Centre Peterborough (UCP) was established in 2007 and was previously a joint venture between Anglia Ruskin University (ARU) and Peterborough College. We have now become a wholly owned subsidiary of the Inspire Education Group from 1st August 2020. UCP is an approved partner of ARU who accredits some of the undergraduate degree courses at the Peterborough campus. University Centre Peterborough is also approved by The Open University as an appropriate organisation to offer higher education programmes leading to Open University validated awards at both our Peterborough and Stamford campuses.
Higher National provision accredited by Pearson is delivered at both the Peterborough and Stamford campuses. UCP at Stamford also has a range of teaching and education courses accredited by Bishop Grosseteste University. We also offer Performing Arts courses at our partners - Addict Dance Academy in Leicester and ESPA in Stamford.
As a relatively new institution, we have been able to create a learning environment which is different to other universities, and our strength comes from our smaller size, which enables us to put you at the heart of everything we do. When you study with us, we will support your development and help you in achieving your career and personal ambitions.
The mission of University Centre Peterborough is:
'To engage, enable and empower students to meet the challenges of the future'

Students remain at the heart of all that we do and are integral to the decision making process. We aim to ensure that the attributes of the UCP graduate result in personal and academic success. The University Centre Peterborough Graduate demonstrates:
Resilience
Engagement in and promotion of continuous academic and professional development
A global perspective and cross –cultural sensitivity and awareness
Clarity of communication and purpose
Information and skill expertise
Intellectual autonomy and enquiry
Adaptability
For those moving to Peterborough we have a good network of student support ranging from the academic to extra-curricular. Numerous societies and activities ensure University Centre Peterborough is a hub of activity and opportunity.
Our Student Ambassadors provide a friendly face from day one and will advise and guide you about course related and extra-curricular activities. We realise that sometimes you just want to talk to one of your peers. We have an active Student Council and Student Officer who ensures that we work in partnership to provide a learning experience that meets the needs of our diverse and rich community.
Employability has been another area we have developed at UCP. We have forged excellent working relationships with companies such as, BGL, Saffery Champness as well as numerous third sector organisations such as the Citizen's' Advice Bureau. Companies recruit direct from us and also offer students paid internships and commissioned projects. We also have excellent connections with volunteer organisations and support you in your personal development from year one. As a successful partner in the national OfS Challenge Fund we have extended the work of our Employability Hub to engage with SMEs in the region.
For those in employment we offer degrees on a part-time or blended delivery model. This means that some modules may be delivered online and related to your employment.
Enhancing democratic and civic participation also builds the confidence of our students, creates networks and enhances your employability. A number of research projects undertaken by our staff and students have led to knowledge exchange which promotes public good which, in turn, promotes great democratic and civic participation. UCP are committed to meeting the needs of its local community and have been active supporters of the Children's University since its inception.
If you would like further information about any of the courses we offer or if you are looking for advice and guidance on the best course for you, why not contact our friendly Information Centre on 01733 214466 or email hello@ucp.ac.uk and find out how you can join the many students who achieve their ambitions with us every year.
We look forward to seeing you at University Centre Peterborough.