University Centre Peterborough currently has around 700 students on over 30 different degree level programmes, including Archaeology, Business and Accounting, Computing, Construction, Education, Engineering, English Literature, Multimedia Journalism, Biosciences, Media and Performing Arts. The University Centre is part of a strategic aim to develop this provision further in order to meet the growing demand for degree programmes in the city.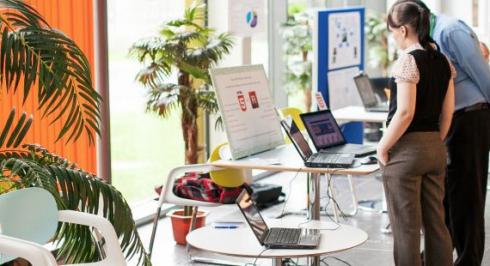 The ultra modern and contemporary £10 million University Centre located on Peterborough Regional College grounds in a joint venture with Anglia Ruskin University has a specially designed 92 seat lecture theatre, a range of multi-purpose/size seminar and teaching rooms, state-of-the-art computer rooms, a cafe and several social areas. In addition those on the Multimedia Journalism and Media degrees have access to the state of the art Media and Journalism Satellite Centre and students on the Sports Coaching degree have access to a state of the art gym facility and testing lab.
Courses provided at UCP help students acquire knowledge and skills relevant to local businesses, industries and public services. The University Centre also provides services direct to the business community, aiding innovation, product and service development and the 'up-skilling' of the local workforce.
Expert Tuition
At University Centre Peterborough you will learn from approachable and supportive lecturers, highly qualified and experienced in their fields, who are dedicated to helping you achieve your ambitions. The latest Institutional Review gave us 5 commendations, proving that we maintain academic standards and manage the quality of your learning opportunities as students. Student praise the guidance they receive from their lecturers even when they have graduated. Our strong track record in the National Student Survey (NSS) is evidence of our commitment to quality and the student experience.
Supportive Environment
We are dedicated to your success and will do everything in our power to help you achieve your goals. If you find yourself in need of some extra help with your studies we have a number of dedicated members of staff to help you with any queries or concerns, or even just to lend a supportive ear before and during your time with us. Our small class sizes allow the lecturers to get to know you personally and our students will be the first to agree that your knowledge and opinions are valued. Student Ambassadors, the Student Council, and a Student Experience Officer ensure that we respond to your needs and involve you in the decision making process.
Employability
Peterborough is a diverse city with a wide range of careers available just waiting for talented people to discover and one of our major aims is to grow that talent for the city. We have excellent links with local and regional employers and strongly encourage our students to gain practical experience in their chosen fields. Practical experience allows you to develop your skills and confidence, add experience to your CV and provides you with excellent opportunities to network and acquire contacts in the business world. Our tutors are here for you whenever you need them to help and guide you, whether it be finding a placement/internship or giving you advice on what exactly to include in a CV to make you stand out from the crowd.