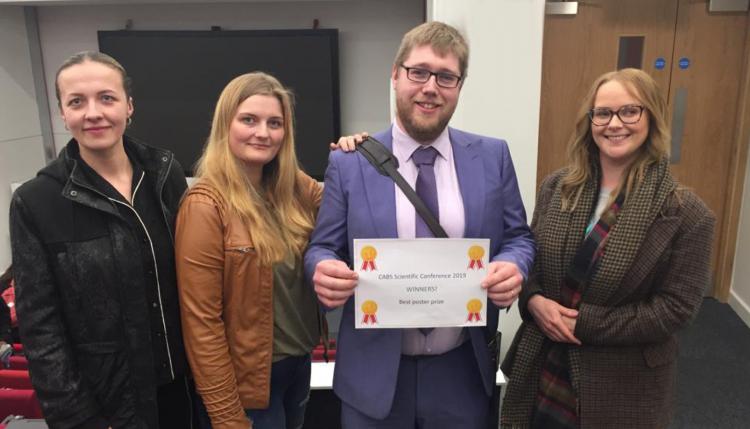 As part of the Current Advances in Biomedical Sciences (CABS) module on the BSc (Hons) Bioscience degree, students from UCP participated in the CABS Scientific Conference at Anglia Ruskin University (ARU) to present their research into 'Optogenetics: The Power of Bioelectronics'.
The poster brief for the students was to assess the validity and significance of a recently reported advance in biomedical science. The students chose to focus on Optogenetics, which involves the use of light to control cells in living tissue and has potential treatments into a wide range of neurological disorders including Parkinson's disease.
The winning group of Christopher Gilbert, Hayley Scarrott, Ruta Jovaisaite and Natasha Burton were awarded 'Best Poster Prize' for their presentation which was highly commended by the panel with an impressive group average score of 90%. The panel featured academic staff and research scientists from ARU, UCP and external institutions including University of Cambridge.
Over 100 students from ARU and their partner institutions including UCP participated in this annual conference and the panels members commented on the student's excellent presentation skills and knowledge base.
Sudakaran Selvaraj, course leader for the BSc (Hons) Bioscience said "This was a fantastic opportunity for our students to demonstrate their knowledge and to be recognised by their peers and scientific experts in their field. This group of students have benefited from using their industry experience as many have secured work through work placements on the degree programme."
This conference proved ideal preparation for Hayley Scarrott who is representing UCP at BCUR 2019 (British Conference of Undergraduate Research) with undergraduate students from 69 institutions who will be presenting a range of disciplines and research methodologies.